Mumbai: Bollywood actors Ranveer Singh and Arjun Kapoor have extended their support for tennis superstar Sania Mirza after she announced her retirement plans on Wednesday.
Taking to his Instagram Story, Ranveer posted a picture of Sania in which she can be seen holding the Indian flag proudly. Along with the picture, he wrote, "Queen @mirzasaniar," and added a crown emoticon.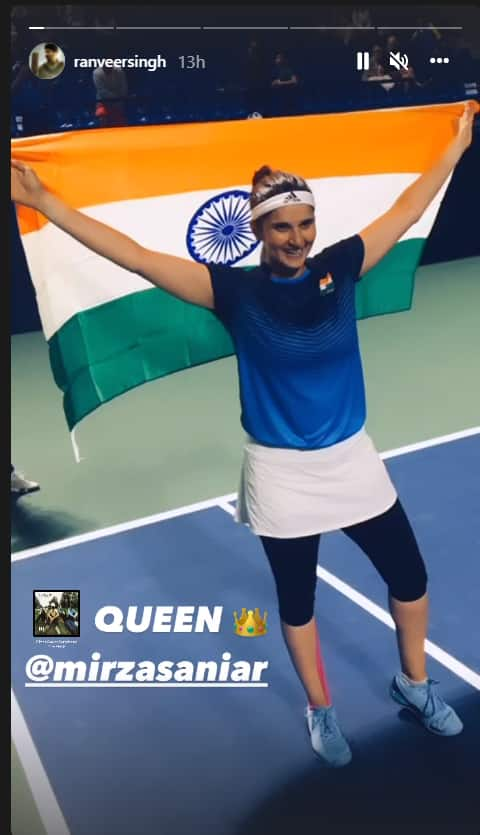 Arjun Kapoor also took to his Instagram Story and wrote, "truly an inspiration to many @mirzasaniar."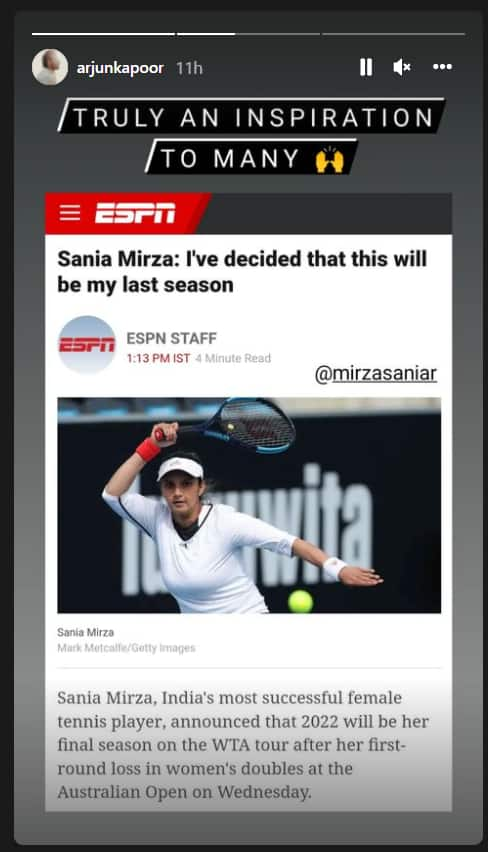 After losing in the first round of the women's doubles event at the ongoing Australian Open, Mirza announced her retirement plans on social media. Following her match, the 35-year-old expressed herself as follows: "There are a couple of reasons for this. No, it isn't as simple as saying "okay, I'm not going to play." I have the impression that my recovery is taking longer, and that I am putting my 3-year-old son's safety at risk by travelling so much with him; this is something I must consider. I believe that my body is wearing out. Despite the fact that my knee was in excruciating pain today (I am not claiming that this was the reason we lost), I believe that it is taking longer to recover as I grow older."
"Additionally, I need to find the motivation to come out every day. The energy has changed and is no longer the same. More days than there used to be when I didn't feel like doing that have come into existence. I've always stated that I'll continue to play until I no longer enjoy the grind, a process that I'm not sure I'm enjoying as much as I used to."
"Having said that, I still intend to participate in the season because I am enjoying myself enough to do so throughout the year. I've worked extremely hard to return, get in shape, lose weight, and try to set a good example for other mothers, especially new mothers, to follow their dreams to the greatest extent possible. I don't think my body will continue to do it after this season. It has been beaten, "Mirza went on to say more.
The Indian tennis player has six Grand Slam titles to her credit and is currently ranked number one in the world in the doubles division. Mirza is also the first Indian woman to break into the top 30 of the Women's Tennis Association singles rankings.